Shayton Equilibrium: Limited production hyper car by Provoco
Shayton Automotive is a crown project of Provoco's State of Passion design and development philosophy and the founding statement of the Provoco brand. It is set to define new perception of beauty, quality and lifestyle in the 21st century. More than a concept of a super sports car it is designed as a automobile niche brand based on a strong story, solid foundations and a daring vision to become one of the worlds leading super car manufactures and expose them to new direct competition. The goals are to further expand the automobile models set, push the edges of development, design and technology, get involved in other areas such as racing and evolve as the pop-cultural and the new status icon of new millennium.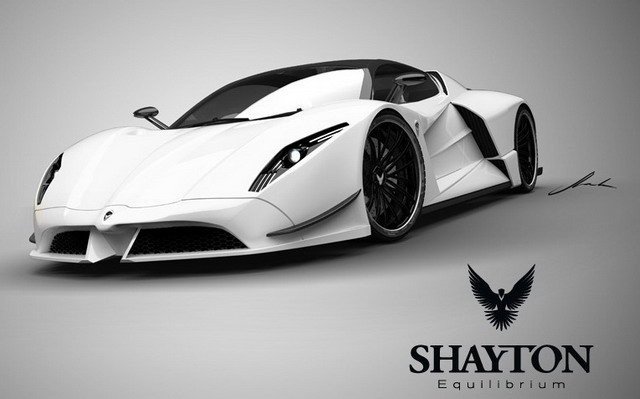 Shayton Equilibrium
Equilibrium is the name of the first unveiled Shayton model. The name represents the basic cosmic principle on which everything is based on, the natural balance of the universe. It is the condition of a system in which competing influences are balanced. In the words of the creators Shayton Equilibrium represents pure hedonism, perversion on four wheels, an abstract concept to most people and on the other side a realization of childhood fantasies and realization of dreams.
Bold and provocative vision
The bold statement for what Shayton is aimed to achieve is simply to garage the competition and let it stay there. It's point is to prove that new great brands can come out of 21st century and that you only need passion and vision which is the leading factor that joins unique souls together to create something not only to sweep with all the competition, but to overcome them on all areas...
Passion of creation
The creation was not by reason but by pure passion and therefore it's beauty relies totally on feelings, connection and implementation with nature and the biomimetic. Aerodynamic form is compared to the one of the natural perfected design for speed of the falcon - Shayton. It is to the natural movement, form and beauty.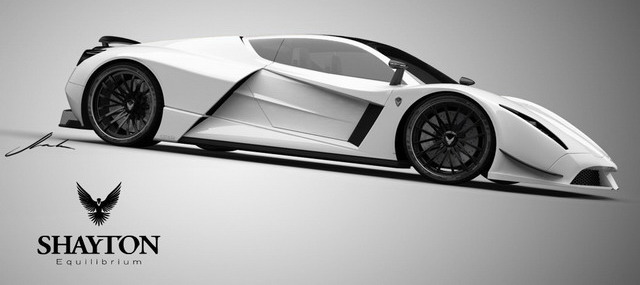 Technical vision
Shayton's aim is to develop a car that is not just beautiful and fast, but also technically perfected. Every detail is aimed to be done to the maximum. Every part will be carefully developed and placed to best perform it's task. We strive to discover the limits of material capabilities, finding of new composing materials, maybe to test the capabilities of new alternative power engines that could enhance the performance. To use to the limits technologies developed, and dare to develop new technologies and materials. Shayton's primary idea is not to make the world's fastest cat but to strive for perfection and technical excellence using best materials available and aim for the highest overall performance and groundbreaking results. We will therefore not be surprised if some record breaking results in the end do occur.
New niche and interaction
Another bold statement is that this car is not trying to be a pure racer. It is not even trying to be a pure luxury exotic. This car is planned to be both. From the first moment this car is planned to be a controversial and this is what it defines it. Shayton's vision is to offer new niche experiences to the driver. It is aimed to surpass the expected thrills of speed, performance, roaring sound and the engine, or even comfort. The car will feature new interaction techniques that will connect owners and deliver completely new experience of owning a super sports car. The car will offer features like wireless internet to connect to your online music database and offer you connectivity everywhere, save owner's settings and advanced user modes which will recognize the driver. You will be able to communicate with other Shayton owners trough secured channels as well as in members area at SHAYTON.eu. Shayton will be controlled with SSS. ShaytonSmartSystem, a program developed to provide best driving experience wherever and whenever. The system enables owner to adjust Shayton's engine and suspension as well as interior ambient according to his/hers desires as well as situation on the roads.
In communication with GPS and onboard computer, the system recognize current action as well as the destination. The system is fully operational trough touch screen in centre console. If you trust yourself and believe you are experienced driver you could switch the system off. Engine works at full power, suspension is in race mode, all electronic assistance is now on off mode. At this point Shayton Automotive receives an instant message "Shayton "id number" is in manual mode" and at this point you are on your own with the beast.
Imagine yourself in the middle of the night on an empty Hong Kong highway. The pulse is rising when you rev the engine, all senses sharpen. You log-in the members' area at SHAYTON.eu using high speed wi-fi internet connection. GPS system locates your position and provides you with info on predefined "race tracks" in this area. If anyone of respected fellow owners of Shayton has already raced any of these tracks, you could now race against their times. You can always set-up a new track and publish it online in privacy of members' area.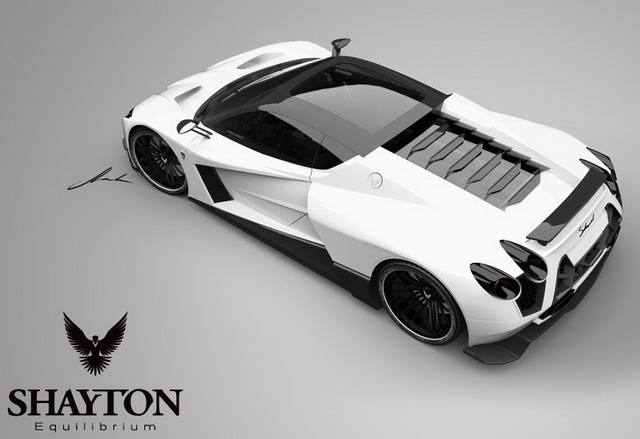 Prototype, partners
The car has been developed to the point that needs to enter the next phase - creation of a prototype. Provoco is now meeting with potential investors and partners from all fields of the car industry who will believe in the essence of the project and also the business success of the brand. Firstly prototype will be developed on which will be put trough variety of tests, from aerodynamics, ergonomy, performance, ect.. The prototype will also serve as an exhibition model. At this stage, as car will be presented to the World, first potential buyers will be listed. Provoco kindly invites all partners, visionaries, manufacturers, personas, who think they could attribute or join to the project to contact us on our contact details.
Launch and presentation
When the prototype will be produced, the car brand will be launched in a F1 style manner based on the story and essence of Shayton. Along with that the car is aimed to be represented on various top car shows in the world as well as at Concorso D'Eleganza on the grounds of the Grand Hotel Villa D'Este on the shores of Lake Como in Italy then to create little series manufacture process.
Production and Orders
Production line model will be assembled after the prototype versions will be fully tested and approved and first preorders will be taken.
Brand evolution
Later on the brand will be expanded to new Shayton models that will cover more niche lines. The brand will expand onto other areas such as creating Shayton sports teams in top racing competitions which will added value to the brand but foremost it will present leading edge of company's development and technology.
Lifestyle
Shayton offers a unique lifestyle and defines a new perspective of car use, moving around, traveling and it's usage. It will represent a status icon. We want to create a racer in a business suit. Imagine your plan for the evening is to visit the Opera accompanied with your date but you are in need for rush of adrenalin just before you shall relax and enjoy the evening. What to do?
You have two options. Go straight to pick up spot using regular, common way or you could let the system help you set up more excited way. If you choose second option the car mode will go from normal to race. The suspension will lower the car and make it more firm on the road, radio will volume down to the minimum, interior lightning will set to the essentials, engine will be ready to work with full power, turbochargers will suck more air, seat will offer you tighter grip and the safety belt will readjust.
You arrive at the pick up spot, still shivering from adrenalin rush. As you wait for your date, you enter new destination, Opera. The system recognize destination and setup the car. System softens, warm dim lightning turns on, radio browses trough the web to search music accordingly to destination and engine start working on lower rpms. From pure race to polite gentleman. Your date arrives, the night is yours. Relax, enjoy. Shayton will not become just an everlasting object of appreciation but also the perception of someone successful who is made to represent his or hers progressive lifestyle and has control over it.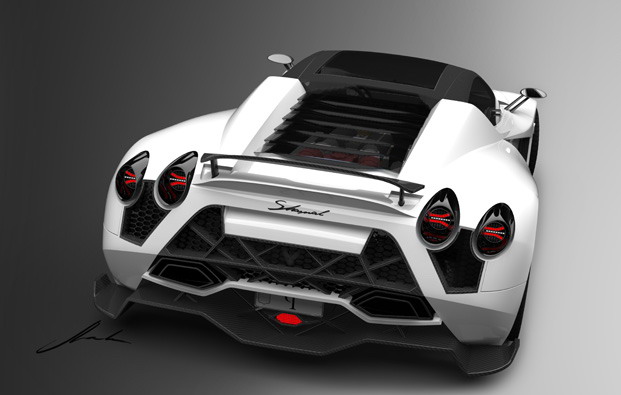 The brand symbols
The main brand symbol is represented by species of a raptorial bird from the genus Falco - falcon. The falcon represents a respected animal throughout the world. It represents attacking power, speed, predation and also nobility in various world monarchies. Falcon is also the fastest moving creature on Earth and one of the smartest birds.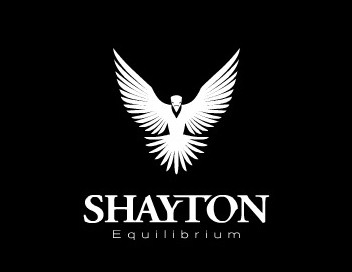 Falcon in symbolism and mythology
In indian symbolism the falcon assists in soul healing, accompanies the soul back to the soul world, teaches swiftness and aerobatics of life, controls speed and movement. The Egyptians also depicted their god Horus, who came to be partially conflated with Ra, as a falcon. Other brand symbols include the name Shayton and the unmistakable and unique design of the automobile and all it's parts.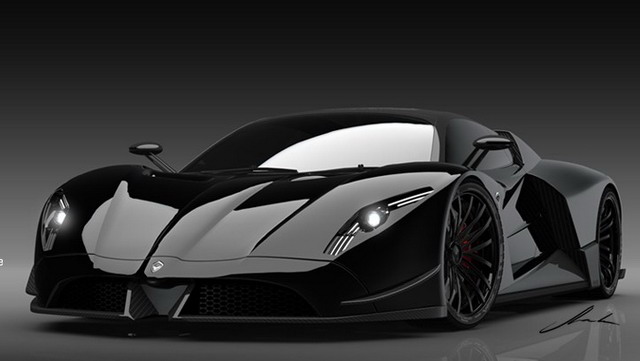 Story
CREATION
First there have been rushing elements of nature which are still reshaping the Earth, our own habitat. Elements so powerful humans often consider them as work of gods, supernatural forces that should be worshipped. Imagine essence of these elements united into a shape. This is the creation of Shayton Equilibrium. Perfect balanced masterpiece of all these elements captured in a form humans have never seen before. Shayton is a new god, the god of speed and performance. Faster than wind, more powerful than storm and as beautiful as if it was shaped by supernatural forces themselves.
PHILOSOPHY
Shayton Equilibrium represents forces manifested into form. It puts motion in shape, it is an essence of super sports car in 21st century. Striking balance between beauty and performance enables Shayton to step out among respectful competition.
VISION
Shayton Automotive represents a disturbing movement in global super-cars atmosphere, especially affecting competition based in Europe. ( it's origins of supercars, Europe.)
Without history to relay on, Shayton Automotive is rather developing the future.
The goal is to become the ultimate, limited production, super-car manufacturer in the market using newest technology and materials to reach the state of condition in which competing influences are perfectly balanced: equilibrium of design and engineering/performance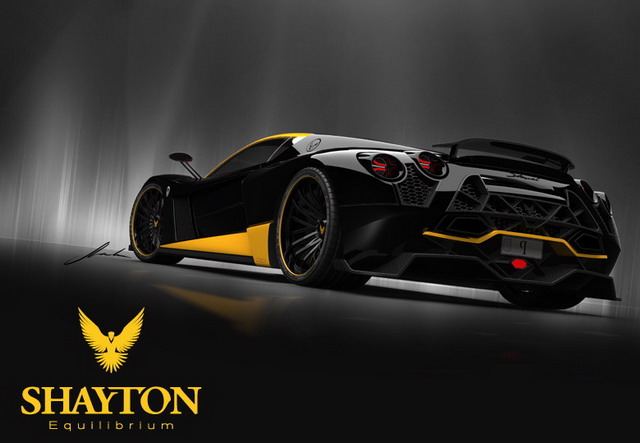 DESIGN
Design of Shayton Equilibrium comes from pure emotions, from perfect balance of energies and forces within the lead designer Andrej Stanta. He says that this is the only way human is being able to develop such a masterpiece. Without function Shayton would be just another piece of art to put into the gallery. Therefore two worlds are to clash together at one point to make absolute perfection, equilibrium. Engineering this car could be chapter of its own. Complex to the point where man develops new building techniques and use materials reserved for space and army industry. According to Mr. Stanta the most difficult task is to reach compromises from both sides although both have goal to make this car pure balanced perfection. And this is Shayton.
Exterior
Shayton Equalibrium's unmistakable design unites the DNA of a brutal wind storm, the elegance of a falcon in flight and pureness of a natural pearl. It's flowing lines aggressively cut by large side intakes and then beautifully reunited in the back give Shayton a distinctive muscular and aggressive yet very elegant and graceful look as well as low air resistance factor.
Interior
The elegant yet sporty interior in Shayton is dominated by a driver-focused cockpit architecture where the driver is in control.
Form follows emotion and function: this combined design principle is implemented throughout the car. Sitting inside in the driving seat makes one thing clear: you are possessing superpowers, you are in control of a fierce storm, enormous amount of energy, power and torque.
However, having control over all this brutal force ask for well thought interior with focus on the driver/owner. Ergonomics, styling and safety goes hand in hand inside the cockpit where is everything set up to ensure driver/owner ultimate driving experience when Shayton is pushed to its limits.
ENGINEERING
Manifestation of a fierce storm. So powerful and dangerous yet so perfect and stunningly beautiful. Shayton Equilibrium will feature all carbon-titanium chassis, forged aluminum alloy suspension, carbon-titanium wheels, Bosch electronics, and emission standards that will allow Shayton to dominate roads all over the World.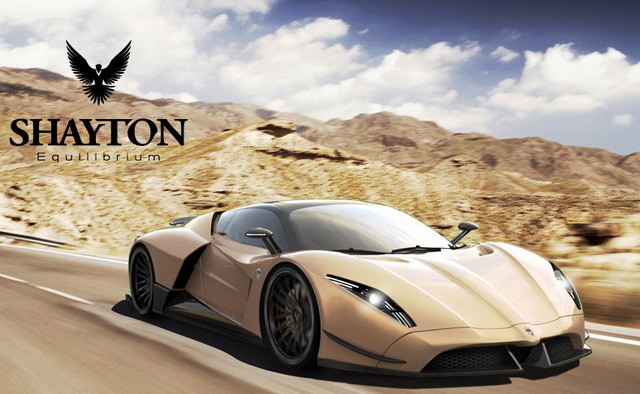 Further info
The name, the symbols and the meaning.
The name Shayton originally comes from the Sioux Indian word for a falcon (Chayton pron. Shay-ton).
The main symbol of the brand is represented by species of a raptorial bird from the genus Falco - falcon.
The falcon represents a respected animal throughout the world. It represents attacking power, speed, predation and also nobility in various world monarchies.
Shayton - bird Falcon comparisons
Peregrine falcons have been recorded to exceed diving speeds of 320km/h (200mph) making them the fastest moving creatures on Earth.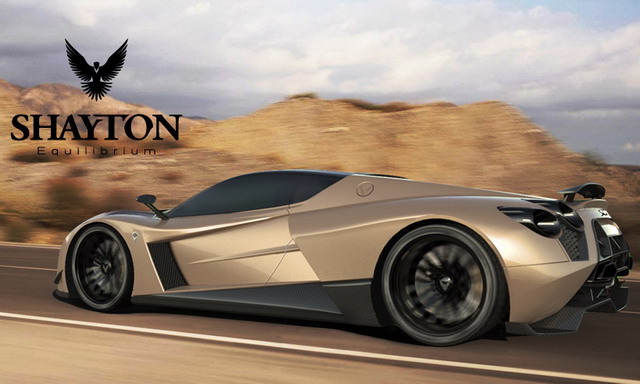 The element of speed - Shayton
The peregrine falcon, which is indigenous to Egypt, not only is capable of elaborate aerial maneuvers, but also has been clocked at the fastest speed of any bird. A poem on a fragment of pottery from the vicinity of ancient Cairo celebrated the sun god Ra in his incarnation as a falcon. The name Falcon comes from the Latin falx, a sickle and alludes to the sharp beak that, like the grim reaper, brings sudden death. A symbol representing what Shayton is bringing to the competition. Falcons are also one of the smartest birds. Falcon is a bird of prey. It is a metaphor of what the car is bringing to the world. The Peregrine Falcon is one of the most cosmopolitan of birds. It is found almost everywhere in the world
Mythology
In indian symbolism the falcon assists in soul healing, accompanies the soul back to the soul world, teaches swiftness and aerobatics of life, controls speed and movement.
Facts
Brand name: Shayton
Model name: Equilibrium
Manufacturer name: Shayton Automotive
Tagline: Super sports car / Super performance sports car
Category: Super cars
Creation studio: Provoco
Head designers name: Andrej Stanta (car), Dominik Cernelic (brand)
Origin: Europe
Production: 15 + 5 cars / year + special editions
Final price: 1.000.000 EUR +
Competition: Bugatti Veyron, Koennigsegg, Pagani Zonda, Lamborghini Reventon
Aimed technical results:
Top Speed: 400+ km/h (249+ mph)
0-100 km/h (0-62 mph) 3.1 seconds
0-200 km/h 8.9 sec. 0-200-0 km/h 13.7 sec
Braking distance: 30.5m (100-0 km/h)
Lateral G-force: 1.6 G
Weight-to-power ratio: 1.42 kg/hp
Power: 1084 bhp
Torque: 930 Nm at 5000 rpm
Weight: 1200kg
Weight distribution in driving condition: 47% front, 53% rear
Downforce at 300 kph: 750 kg
Aimed parts, materials and construction:
Engine: V12
Wheels: monolitic wheels forged in aluminium and magnesium, Size: front 9x20 - rear 12,5x21
Tyres: Pirelli PZero tyres. Size: front 255/35/20 - rear 335/30/21
Brakes: Brembo brakes in carbo-ceramic self ventilated with hydraulic servo brake, Size: front 380x34 mm, monolitic 6 piston caliper; rear 380x34 mm, monolitic 4 piston caliper
Brake control systems: Bosch Electronics
Gearbox: Sequential gearbox
Monocoque: Carbon-titanium monocoque
Stability electronics, active/passive safety: Bosch Electronics
Body: Carbon-fiber
Seats: Recaro custom made
Sound: B&O
Exhaust: Carbon/titanium by one and only Akrapovi?
Lights: Hella Lightning full LED front/back
Interior: Leather, alcantara, carbon fiber, brushed aluminium
Official website: www.shayton.eu