Vorsteiner 599-VX Coupe Tuning Program
Always raising the bar on perfection is the goal at Vorsteiner. We have taken this program to the next level with the refinement of our 599-VX tuning program. The components are designed to enhance the the well sculpted body of the Ferrari and give it a muscular sophistication without compromising the quality, aesthetics, or performance.
Built with the latest in carbon technology, the aerodynamic components achieve a weight reduction of 70 percent from the factory parts. To add to the aerodynamics we are also offering a forged monoblock wheel that is specifically designed for the 599. They are available in sizes 20, 21, and 22 inches and is finished to the customer's desired specifications.
We have also included a stainless steel exhaust system built from the ground up. The development of the exhaust is specifically to fit with the race inspired 599-VX rear bumper. The tone and characteristics of this exhaust system is an announcement to the world that you are driving pure perfection.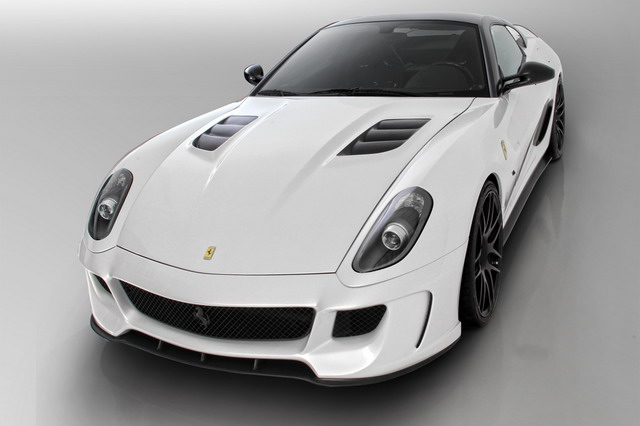 The 599-VX tuning program component rundown:
• Front Bumper Integrated with Optical Carbon Fiber Chin Spoiler
• Louvered Race Hood with Carbon Fiber Optic Vents
• Carbon Fiber Side Sill Extension Blades
• Rear Bumper with Integrated Rear Diffuser Carbon Fiber
• Aerodynamic Deck Lid Spoiler Carbon Fiber
• 20, 21, or 22 inch Special Edition Forged Aluminum Multi Spoke Wheel
• Stainless Steel Race Exhaust System with Dual Race Tips Brushed