SILVERSTONE AUCTIONS' PORSCHE SALE
One of only 11 built and one of just six UK cars, a 1992 Porsche 911 (964) RS Touring is one of the first cars consigned to the Silverstone Auctions Porsche Sale.
The 911 comes from a family Porsche collection and has extensive history file and Porsche Certificate of Authenticity
The Silverstone Auctions Porsche Sale takes place at The Wing, Silverstone on 21st
One of only 11 examples ever made, a stunning 1992 Porsche 911 (964) RS Touring is one of the first cars consigned for the Silverstone Auctions Porsche Sale taking place at the Wing, Silverstone on 21st October.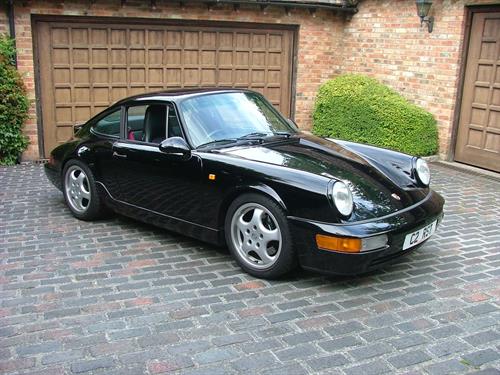 The homologation special is one of only six UK right-hand drive versions, making it rarer still, and comes from a family collection of Porsches. The comprehensive history file includes a Porsche Certificate of Authenticity, membership details of the 964 RS Register, old MoT certificates and tax discs, service invoices, and period road test magazine articles.
Early in its ownership the car was entrusted to JZ in King's Langley for work including "de-cat system and Supply and fit performance chip." The resulting dyno test printout shows 278.8 bhp at 5909 rpm.
Finished in Black with a black interior, the 911 RST features Sport leather seats with triple colour inlays, a top tinted windscreen and a sunroof, and is estimated at £185,000 - £210,000.
"This is a very special Porsche, the rarest of the rare," declares Guy Lees-Milne, general manager of Silverstone Auctions. "These cars are actively sought after by serious Porsche collectors all over the world, and this is a truly superb example."
The 964 911 RS was created to homologate the model for the Porsche Carrera Cup race series and came in two flavours; the lightweight Sport and the more sought-after Touring.
While the more common Sport version with its stripped out interior was a little too uncompromising for many tastes, the rarer Touring retained the more refined equipment, sound proofing and comforts of the Carrera.
The RS Touring, however, still boasts an impressive specification when compared to the standard 964 with a blueprinted 3600cc air-cooled engine, lowered and stiffened suspension, 'Uniball' top strut mounts, strengthened engine and gearbox mounts, and uprated brakes from the Turbo. Although not as pared down as the Sport, the RS Touring is still lighter than the standard 964. Together with the re-chipped engine management system and lighter, single-mass flywheel, the RST has only 10 bhp more than a standard 964, but with significantly more torque.
Sitting on unique magnesium 17-inch wheels rims and low-profile Michelin N3 tyres, the all-black Porsche 911 RST was originally manufactured in 1992, but found its first owner at JCT Brooklands in September 1993. The car also comes with a special number plate that's truly appropriate: C2 RST.
To find out more about the 1992 Porsche 911 (964) RS Touring and Silverstone Auctions' Porsche Sale, please visit https://www.silverstoneauctions.com/1993-porsche-964-carrera-rs