EXPERIENCE THE C 63 AMG COUPÉ BLACK SERIES IN THE ROAR AT MERCEDES-BENZ WORLD
From 14 July 2012, the stunning Mercedes-Benz C 63 AMG Coupé Black Series will be unleashed on the circuits at Mercedes-Benz World to take driving experiences to another dimension. Visitors to the astonishing automotive visitor attraction will shudder with seduction at sight of this most powerful C-Class to date, developed and engineered to deliver the ultimate adrenaline rush. The exclusive experience is launched with a powerful 12 week summer offer.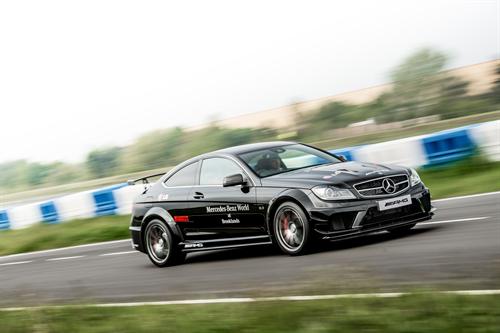 As one of only 600 cars to be produced worldwide and only 66 destined for the UK, this is a rare chance to experience the dynamism and excitement that AMG have transferred from the race track into a road car. The full force of the AMG 6.3 litre V8 propels the track predator to 62 mph in just 4.2 seconds. With dramatic track-honed aerodynamics it looks every bit as menacing as it performs with the power to cast a Black Series shadow that will eclipse rival driving experiences at other venues.
The driving experience indulges raw driving dynamics with roar performance pleasure. The hour long experience consists of two parts. During the first 30 minute session drivers will develop their circuit craft behind the wheel of a Mercedes AMG - remembering every straight and corner. With the circuit ingrained on the mind and a professional Mercedes-Benz Driving Specialist in the passenger seat to help develop driving skills, the next 30 minutes is spent in the C 63 AMG Coupé Black Series, taming the tumultuous aggressor from its racing style bucket seat.
A very special offer of £250 launches the C 63 AMG Coupé Black Series Driving Experience, providing a £100 saving. The offer runs until the end of summer with experiences to be purchased and taken by 30 September 2012. The experience can also be purchased as a gift that will knock-out any other.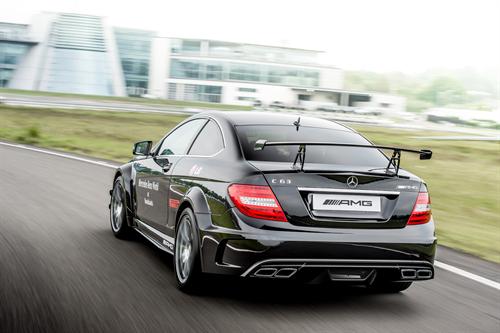 Any driving experience at Mercedes-Benz world is heightened by the venue that also offers a great day out for family and friends. With excellent viewing of the track action, they too can share the excitement. With fascinating interactive exhibitions and displays featuring everything from iconic classics to Formula 1™ race cars as never been seen before, the experience certainly doesn't end when the driving does.